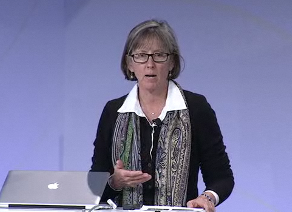 Mobile communications
is driving what some leading experts are coining "
the fifth major technology cycle of the past half a century
".
This is the conclusion of Ms. Mary Meeker, managing director of the Morgan Stanley Global Technology Research Team, who Barron Magazine affectionately refers to as the "Queen of the Net", and who played a significant role in Morgan Stanley's assist in launching the Google IPO.
I guess you'd say we consider her a credible reference.
Two months ago, Ms. Meeker presented summary marketing conclusions to Google at the most recent "[email protected]" series presentations. Her major points:
Mobile Internet is ramping up substantially faster than the desktop computer did.

Her team arrived this conclusion by comparing the adoption rates of iPhone/iPod touch to that of AOL and Netscape in the early 1990s.
Consumer demand for mobile and social networking services will become increasingly insatiable. Of course all internet marketers understand the importance of these two subjects, but Meeker's research puts extraordinarily high numbers against these two subjects.
Within the next five years, more users will connect to the Internet over mobile devices than desktop PC's.

She commented that business owners that are entrenched within the mobile marketing sphere will "…likely win big, potentially very big while (those who weren't) will wonder what just happened".
Fascinating conclusions and predictions wouldn't you say? From WSI Pro Marketing's experience and observations, the only thing we question is whether or not it will take five years for mobile search to exceed desktop computer search. We currently serve clients who witness a full 20% of their total search volume emanating from mobile devices. We know our own clients (and their clients) increasingly use their personal smart phones during the morning and evening commute (always as passengers we trust), use them periodically throughout the workday, and even at home itself when desktop computers are readily available. Who among us has not found our smart phones accompanying us to the living room during "family time".

Now, how does all this effect the business owner today? The answer is simple. Find a smart phone and navigate to your business website. Note the comparatively long load time as the smart phones of today simply do not possess the computing power of the desktop. Note the degree of manipulation required to view the critical data. Now, realize that in the impatient world of today's consumer, you suffer the very real possibility that web prospects will quickly exit your site in search of something more friendly to navigate.

The solution for strategic and proactive business owners are custom mobile web digital marketing solutions. These custom mobile websites VERY closely mimic your existing website, present all critical calls to action within a single view, and are based on "economy of code" that ensures the mobile site loads quickly. We invite you to visit our Mobile Web Digital Marketing Solution page to see how a few of our client's main websites are converted for mobile. Please note that the "cell phones" on that page present active links that demonstrate exactly how these sites are demonstrated on mobile devices.

Finally, if you are a strategic and proactive business owner who wants to embrace custom mobile web solutions to give your business a competitive advantage, we invite you to contact us anytime.