You've probably seen it on personal pages but now Facebook is changing your business page to the new timeline format. Effective 1 April, all Facebook Pages will be forced to adopt the new format. Throughout March, businesses have been allowed to adopt the new format electively and WSI Pro Marketing has been out in front, converting clients over and developing future strategies.
So, speaking of strategies, here are a few tidbits we gathered from various sources around the web.
1. Choosing the right Cover Photo - Use a unique image that represents your Page (851 by 315 pixels)
According to Facebook, cover images may not contain:
Price or purchase information, such as "40% off" or "Download it at our website"
Contact information, such as web address, email, mailing address or other information intended for your Page's About section
References to user interface elements, such as Like or Share, or any other Facebook site features
Calls to action, such as "Get it now" or "Tell your friends"
Here is an example of a cover photo:

Source: Abberly Green Apartments Facebook Page
2. Using Apps - Highlight Important Apps at the Top of the Page:
The goal here is to display your best content or elements that keep users engaged and on page. Facebook will allow you to highlight a maximum of 12 apps, with only the first four showing (including photos) by default.
You can use your existing welcome pages as one of these elements
But you should change the default small image of your "welcome page" with an attractive image or call to action to encourage clicks. You can do that by clicking on "edit settings" while hovering the image. See below: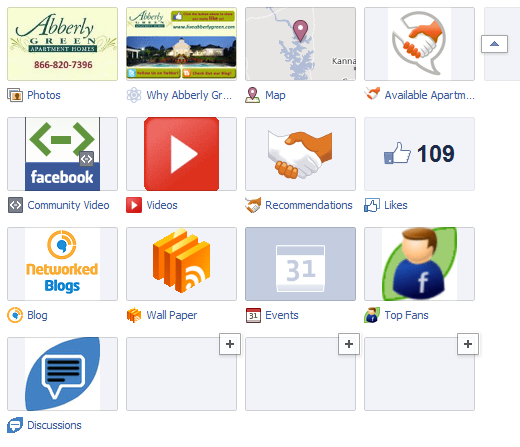 More info at this link http://www.slideshare.net/afinodeyeva/facebook-timeline-strategies-for-business
3. Engage. Try posting a Contest, asking questions, or engaging regular activity to create Fan interactions. If appropriate, Pin or Star a post to keep it top of mind. See next tip.
4. Star and Pin: You can take advantage of the Pinning and Starring feature to highlight important posts at the top of the Timeline
Pinned post stays 7 days on top
Starred post is expanded to display the full width of the profile, 843 by 403 pixels.
More info at this link http://searchenginewatch.com/article/2159597/4-Creative-Ways-to-Use-the-New-Facebook-Brand-Pages
5. Sell on Facebook for Free: Here's one interesting youtube video on How to Sell on Facebook for Free: http://www.youtube.com/watch?v=NzRBT_IC4fo&context=C478b